JC AMBERLYN/Miner
Lee Williams High's Dallas Morgan (8) and Kaleb Smith (61) close in on Sedona Red Rock quarterback Derrick Johnson while Andrew Davis (36) follows the action in the Volunteers' 29-14 win Friday at LWHS.
Stories this photo appears in: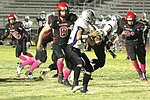 Sedona Red Rock entered Friday's game against the Lee Williams High football team ranked No. 18 in AIA Division V. The Scorpions left flattened in what can be termed as a signature win for the young LWHS program, 29-14.
By Shawn Byrne
October 27, 2013
This Week's Circulars
To view money-saving ads
For as little as $3.49*