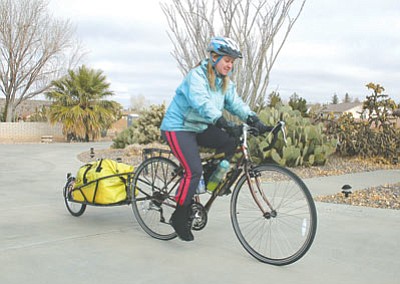 Michelle Thompson is pictured on her bicycle in Kingman in December 2006 before heading to Oatman. She was taking a 2,400-mile bicycle ride along Route 66 from Chicago to Costa Mesa, Calif., to raise awareness about oral cancer and to help out her brother financially. (JC AMBERLYN/Miner)
Stories this photo appears in:
KINGMAN - Move over, bulked-up V-8 muscle car. There's another set of wheels rolling down Route 66, powered by a sprocket and chain and two strong legs.
By Hubble Ray Smith
August 17, 2014