JC AMBERLYN/Miner
Conan Gavan walks from a school bus after assisting a student Friday. Gavan, a special education teacher at Kingman Middle School, is one of seven Filipinos now teaching for KUSD.
Stories this photo appears in: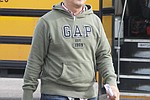 For two years, Kingman Unified School District Superintendent Roger Jacks has heard the bad news about the growing teacher shortage situation in Arizona.
By Kim Steele
December 21, 2014
This Week's Circulars
To view money-saving ads
For as little as $3.49*