JC AMBERLYN/Miner
Hillarie Allison and Bubba at RUFFHouse, before health issues led the county to intervene in her animal sanctuary in Golden Valley.
Stories this photo appears in: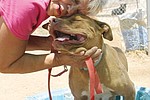 Mohave County Board of Supervisors may authorize staff to revoke the zoning use permit for the Rescued Unwanted Furry Friends Foundation at Tuesday's regular meeting if certain health and building code violations have not been rectified.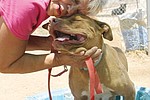 GOLDEN VALLEY - Bubba the dog is looking for a good home.Not just any home, mind you. The 6-year-old large, male pit bull mix needs a forever home in a warm, dry climate, preferably in Arizona or Nevada, because of previous health issues. He is a survivor and his story is inspiring.
By Kim Steele
June 1, 2014
This Week's Circulars
To view money-saving ads
For as little as $3.49*