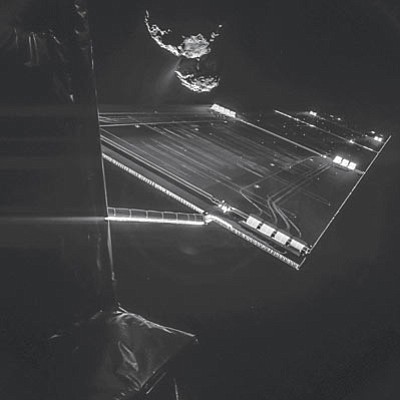 EUROPEAN SPACE AGENCY/CourtesyThe Philae lander of the European Space Agency's Rosetta mission took this self-portrait of the spacecraft on Oct. 7 at a distance of 10 miles from comet 67P/Churyumov–Gerasimenko.  The image, taken with Philae's CIVA camera, captures the side of the Rosetta spacecraft and one of Rosetta's 46-foot-long solar wings, with the comet in the background. Two images with different exposure times were combined to bring out the faint details in this very high contrast situation. The comet's active "neck" region is clearly visible, with streams of dust and gas extending away from the surface.
Stories this photo appears in: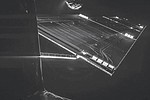 DARMSTADT, Germany (AP) - Landing with a bounce after traveling 4 billion miles, a European spacecraft made history Wednesday by successfully reaching the icy, dusty surface of a speeding comet - a cosmic first designed to answer big questions about the universe.
By Associated Press
November 13, 2014