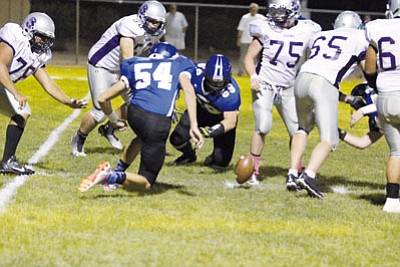 ALAN CHOATE/Miner
Colton Bradley (54) and Wyatt Schmidt are ready to pounce on a loose ball during Academy's 21-14 win over Sedona Friday at Southside Park. Schmidt recovered the ball, the first of two Sedona fumbles he scooped up.
Stories this photo appears in:
Senior linebacker Ethan Tibbetts intercepted Sedona Red Rock's Derrick Johnson and returned it 70 yards for the go-ahead touchdown with 25 seconds left to give Kingman Academy High a Homecoming Game victory for the ages Friday at Southside Park, 21-14.
By Shawn Byrne
October 5, 2014
This Week's Circulars
To view money-saving ads
For as little as $3.49*