Courtesy
Hunters have been credited with helping the endangered California condor recover from near extinction by using non-lead ammunitions in prime condor areas. The effort has been under way for nine years in northern Arizona and for four years in southern Utah. The results are promising as the number of condors treated for lead exposure is less than half of what was seen in previous years.
Stories this photo appears in: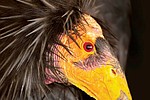 The number of California condors treated for lead exposure in Arizona and Utah is at its lowest level in nearly a decade, according to the Arizona Game and Fish Department.
By Doug McMurdo
October 6, 2014