Team 60 at the Las Vegas Regional. Front row: Jesse Masters, Jesse Marquez; second tow: Christina Tatalovich, Tracey Duncan, Rebecca Leggett, Icarus VanBuren and Alex Schneider. Back Row: Luke Pierson, John Lewis, Eric Venega, Brenton Elledge and Phat $tack$. (Courtesy)
Stories this photo appears in: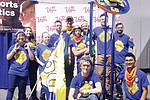 KINGMAN - The Team 60 Robotics Club will be heading to the FIRST Robotics Championships later this month after impressing regional judges at two recent competitions with its robot and community service.
By Kim Steele
April 7, 2015