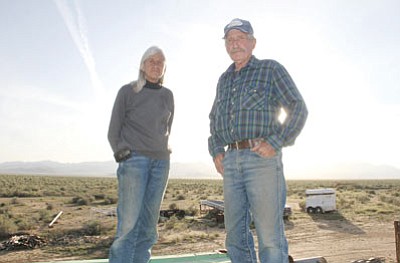 Char and Johnny Sangick stand on their property near Valle Vista Friday in the Haulapai Valley overlooking Kingman Farms and Red Lake. (JC AMBERLYN/Miner)
Stories this photo appears in: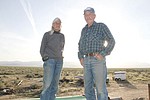 KINGMAN - Charlotte Sangick knew she'd have to live with a little dust when she made her home in the desert nearly 10 years ago, staking out a 40-acre plot of land 7 miles outside of town in the Hualapai Valley. But she wasn't expecting the massive dust clouds that have kicked up in Red Lake and Valle Vista over the last few weeks, casting a gloomy darkness over the area like a scene out of Twilight Zone.
By Hubble Ray Smith
April 7, 2015