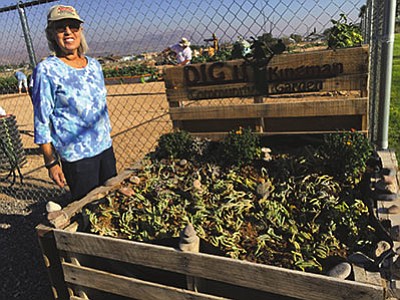 DIG It Community Garden: Cheryl Morgan is a Master Gardener with the University of Arizona Cooperative Extension Mohave County in Kingman and has had a lovely garden at the community garden. Her specialty is growing herbs. She planted basil, dill, oregano, sage, chives, along with other things, and had a bountiful harvest this fall. Cheryl also does the After School Gardening Club at Cerbat Elementary School. Master Gardeners go into this school and teach children about gardening after school. They raise plants from seed to harvest. The classes fit into the math, spelling, history and science curriculum. Learning about gardening is an ongoing process. There is always more to know! Once the Dig It Kingman children's garden is completed, Cheryl and the Garden Mothers will be there helping children grow herbs. Lots of children activities are being planned at DIKCG this spring. If you would like to donate to the children's garden or lease a DIKCG garden bed, please call Mike Roundy at 928-715-1165. Visit our Facebook page at www.facebook.com/digitkingman or our website at www.digitkingmancommunitygardens.org.
Stories this photo appears in:
Cactus Cuties Lady Bikers Chapter: Interested in joining other lady motorcyclists with common interests of motorcycles and riding?