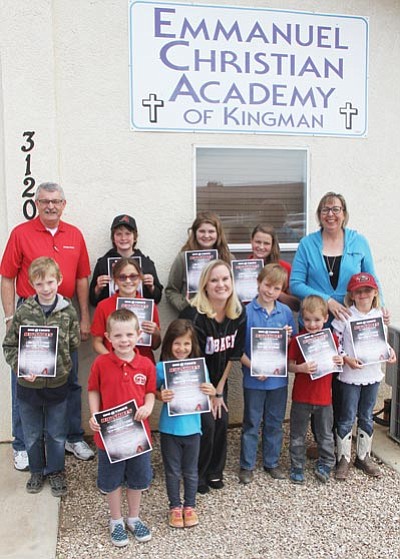 Emmanuel Christian Academy: Big O Tires worked with Emmanuel Christian Academy to award 10 certificates Tuesday to students as part of an Arizona Diamondback youth initiative. Each certificate is good for up to four tickets for the winner and family to attend the April 11 D-backs game against the Los Angeles Dodgers. Each winner will also receive on-field recognition at Chase Field before the game and an official T-shirt. This program offers schools a way to reward students for excellent attendance, good grades, leadership, strong character and anything else the principal deems appropriate. Pictured are: Julie Gaona, Nick Jensen, and Hudson Lander, kindergarteners; Hally Krabbe, first grade, Steven Martin, third grade; Justin Minor and Lylah Wise, fourth grade; Emily Shaffer and Kimberlin Vandyke, sixth grade; and Devin Felton, seventh grade. Also in the photo are Big O owner Frank Benson and his wife, Karen, and Lindsay Bauer, administrator. (JC AMBERLYN/Miner)
Stories this photo appears in: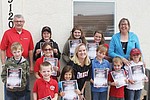 American Legion Auxiliary Unit 14: March 30 has been decreed by the U.S. Senate as the official "Welcome Home Vietnam Veterans Day."
This Week's Circulars
To view money-saving ads
For as little as $3.49*