Democrat Hillary Clinton and Republican Donald Trump
Stories this photo appears in: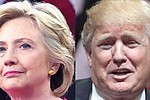 In taking that $915 million loss in 1995, and carrying it forward to shelter future income, Donald Trump did nothing wrong. By both his family and his business, he did everything right.
By Patrick Buchanan, National Columnist
October 5, 2016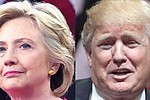 Donald Trump ignited a fresh political firestorm Tuesday by declaring gun rights supporters might still find a way to stop Hillary Clinton, even if she should defeat him and then name anti-gun Supreme Court justices. Democrats pounced, accusing him of openly encouraging violence against his opponent.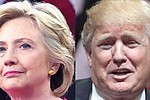 While presidential contenders Donald Trump and Hillary Clinton keep the nation entertained – if being bombarded with hate and fear and lies and anger is your idea of entertainment – the election that should draw our undivided attention is the local races, where government has the most impact on our lives.