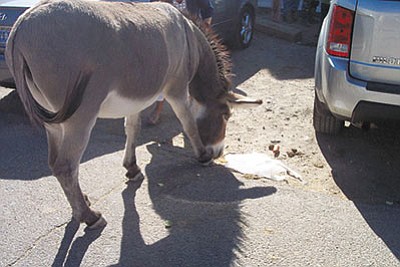 A burro chows down on what would've been an Oatman tourist's lunch. The burros living in the wild are also thought to be helping themselves at the expense of others. (ALAN CHOATE/Miner)
Stories this photo appears in:
KINGMAN - Of all the possible solutions to controlling the wild burro population in Mohave County, euthanization is understandably the least palatable for the public, but it could be a last resort, County Supervisor Steve Moss said Monday at a public workshop.
By Hubble Ray Smith
February 9, 2016