Sisters of Chloride VFW Auxiliary 2190: At the February meeting, Sisters of Chloride VFW 2190 held an underwear luncheon. For a pack of underwear, socks, jeans or coats, you could get a free lunch of enchiladas, salad, bread, brownies and ice cream. A good time was had by all and lots of items (four garbage bags full) were gathered for the upcoming Tri-State Veterans Stand Down scheduled for March 4-5 at the Bullhead City Community Park and Chamber of Commerce, 1251 Arizona Highway 95, Bullhead City. The Stand Down is held each year to provide resources and services to veterans. For more information regarding the Stand Down, please call 928-377-2487 or email president@javc.org. Pictured are Mary Beckett, Lola Royer, Jean Fess, Carol Ebner, Kathy Henderson, Kathy Butz, Phyllis Anderson and Billie Crane.
Stories this photo appears in: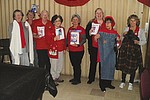 4-H Cactus Critters members visited the Desert Highland Center with over 80 homemade Valentines on Feb. 12.
This Week's Circulars
To view money-saving ads
For as little as $3.49*