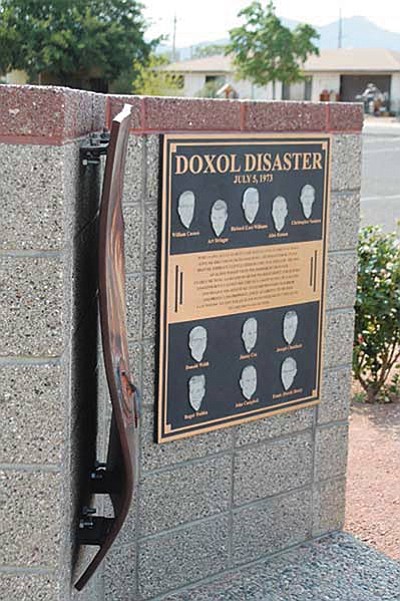 The City Council, members of the Kingman Fire Department and citizens honored the 11 firefighters who lost their lives in the catastrophic Doxol Propane explosion that occurred along the railroad tracks off of Andy Devine Avenue on July 5, 1973. Killed in Kingman were Richard (Lee) Williams, a volunteer firefighter who was the local high school principal at the time and who is the namesake of Lee Williams High School, William Casson, Art Stringer, Alan Hansen, Christopher Sanders, Donald Webb, Jimmy Cox, Joseph Chambers, Roger Hubka, John Campbell and Frank (Butch) Henry. DOUG McMURDO/file
Stories this photo appears in:
The City Council held a moment of silence at Tuesday's meeting to honor the 11 Kingman volunteer firefighters who died in the July 5, 1973 Doxol Propane explosion.
By Doug McMurdo
July 10, 2016