Neither proposition will raise taxes and state Reps. Sonny Borrelli and Gina Cobb, pictured seated while Kingman Unified School District Superintendent Roger Jacks speaks, said passage of both is critical to the future of K-12 and higher education in Arizona, as well as to the financial health of the state's public safety personnel retirement system, respectively. Jacks could not endorse or oppose Proposition 123, but he explained the school funding ballot question voters will answer Tuesday. (DOUG McMURDO/Miner)
Stories this photo appears in: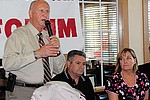 KINGMAN - A confusing issue that will boost spending for public education without raising taxes will be on the ballot for the statewide special election Tuesday.
By Aaron Ricca
May 13, 2016
This Week's Circulars
To view money-saving ads
For as little as $3.49*