The check sent to a Kingman resident is part of a popular scam that often targets people looking for work.Western Union is well aware of the "secret shopper" scam and others that make use of the money-sending service. All of them are detailed on their website: www.westernunion.com/us/en/fraudawareness/fraud-types.htmlFor the most part, these scams originate overseas, making it difficult or impossible for U.S.-based law enforcement to track the con artists. The best defense is knowledge and a healthy dose of skepticism. The IRS will not call you and demand immediate payment. If a caller says your grandson is in a Mexican jail and needs bail money, check in with your grandson first before you do anything else. And if an offer comes along where money magically drops in your lap, it may be too good to be true. The Better Business Bureau maintains a database of scam reports that you can check out: www.bbb.org/scamtracker
Stories this photo appears in: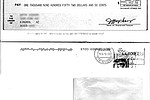 Many of the scams written about in the Miner come over the phone or the Internet. One popped up recently that used an older mode of communication: The mail.
By Alan Choate
May 16, 2016