Byron Lewis, health benefits navigator for North Country HealthCare, shows a spreadsheet comparing Affordable Care Act insurance premiums and tax credits from 2016 and 2017. Rates are expected to increase 25 percent on average and as much as 116 percent in Arizona.

Stories this photo appears in: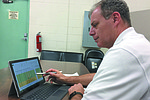 The political winds are blowing fiercely in favor of those who want to repeal and replace the Affordable Care Act...