Lee Williams' Tyler Miner (4) puts the exclamation point on the Volunteers' 21-6 Homecoming Game win over Coconino with a sack late in the fourth quarter Friday at LWHS. The Vols' Marco Narvarte (89) closes in.
Stories this photo appears in: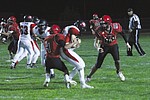 Lee Williams has been wanting to get off to a fast start and deliver a blow to another team before having to absorb one to itself.
This Week's Circulars
To view money-saving ads
For as little as $3.49*