Buster Johnson and Hildy Angius
Stories this photo appears in: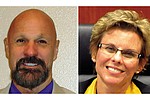 County supervisor doesn't see the need for a public information officer, but the board voted 4-1 to come up with a job description for communications director.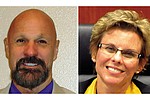 Mohave County appears to be "kind of schizophrenic" about wanting to attract more residents, while at the same time scaring off developers with increased building and permit fees, Supervisor Hildy Angius said Monday.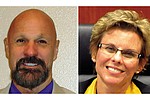 Although no action was taken Tuesday, Mohave County Board of Supervisors debated for more than 30 minutes on the logic of holding monthly meetings.
By David Louis, For The Daily Miner
January 18, 2018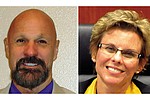 Mohave County Board of Supervisors will discuss holding meetings once a month at Tuesday's meeting scheduled for 9:30 a.m. at the County Administrative Building, 700 W. Beale St.
By David Louis, For the Miner
January 14, 2018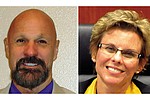 With Mohave County facing a projected $2.8 million budget shortfall, the question now is how to absorb such a liability.
By David Louis, For The Miner
August 3, 2017