Nathan Calderon fires up Officer Chaz Truver's police motorcycle before a short ride around the parking lot. Calderon also got to pull over a "speeder" and issue a ticket.
Stories this photo appears in: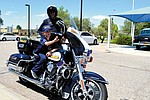 Words can't express how a lucky little boy felt while being a Kingman Police officer for a day.