To help reduce the influence of fake news, lawmakers in several states have introduced or passed bills calling on public school systems to do more to teach media literacy skills that they say are critical to democracy. Arizona is one of several more states expected to consider such bills in the coming year. (File photo)
Stories this photo appears in: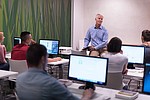 Alarmed by the proliferation of false content online, state lawmakers around the country are pushing schools to put more emphasis on teaching students how to tell fact from fiction.
By RYAN J. FOLEY, Associated Press
December 30, 2017