Dante de Kort, 9, left, pulls up video taken in January of a dead javelina and herd members. Dante and Dr. Mariana Altrichter, Prescott College professor, co-authored a paper for a scientific study published this month on grieving behaviors of javelina. (Photo by Sue Tone/Courier)
Stories this photo appears in: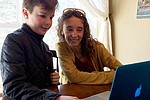 January 2017 opened Dante de Kort's eyes to a world of life and death of javelinas, a science project, and his first publication in a scientific journal — all beginning as an 8-year-old student at Sacred Heart School in Prescott.