Chelsea Curry, manager of Beale St. Brews Coffee Roasting Co. shows off fresh-from the-plant coffee beans. People in Kingman like their coffee – but they might disagree on where the best cup of joe can be found.
Stories this photo appears in: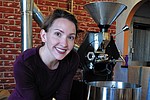 For coffee drinkers, getting through the daily grind would not be possible without starting off with a different kind of daily grind.