An intern answers phones at Sen. John McCain's Phoenix campaign headquarters in this 2016 file photo. The news this week that the Arizona Republican has an aggressive form of brain cancer brought messages of support from political heavyweights to pro athletes, from regular citizens to off-beat comedians.
Stories this photo appears in: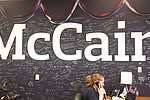 PHOENIX (AP) – Sen. John McCain's packed agenda while on break from Congress in his home state of Arizona has hardly been the schedule of a typical brain cancer patient – or even someone about to turn 81.
By Anita Snow - Associated Press
August 23, 2017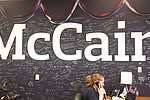 The outpouring of support following this week's announcement that Arizona Sen. John McCain has an aggressive brain tumor came from the expected Washington heavyweights, including current and former presidents, lawmakers and Cabinet members.
By Joe Gilmore, Cronkite News
July 23, 2017