Former State Sen. Kelli Ward (R-Lake Havasu City) showed this past week that she lacks that good judgment with how she handled the news that Sen. John McCain has cancer and a tumor in his brain. (File photo, Howard Fischer Capitol Media Services)
Stories this photo appears in: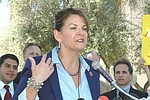 One qualification for a U.S. Senator that we should all be able to agree on is that they have good judgment.
This Week's Circulars
To view money-saving ads
For as little as $3.49*