Kingman North's Keygun Field connects on a two-run single that sparked a five-run first inning. The D-backs couldn't hold on though, falling to Mohave Valley 7-6.
Stories this photo appears in: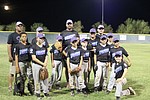 The game of baseball is very similar to life – momentum can be in your favor one minute and then before you know it, it's gone.
This Week's Circulars
To view money-saving ads
For as little as $3.49*