Founding members of Friends of the Arizona Joshua Tree Forest, a group that helps care for the trees, stand in front of a mature Joshua tree recently near Diamond Bar Road. From left to right are Pam Steffen, Sue Baughman, Chuck Steffen and Marvin and Sharon Baur.
Stories this photo appears in: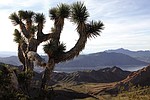 One of the most iconic and unique symbols of the Mojave desert is the stately and unusual looking Joshua tree.
This Week's Circulars
To view money-saving ads
For as little as $3.49*