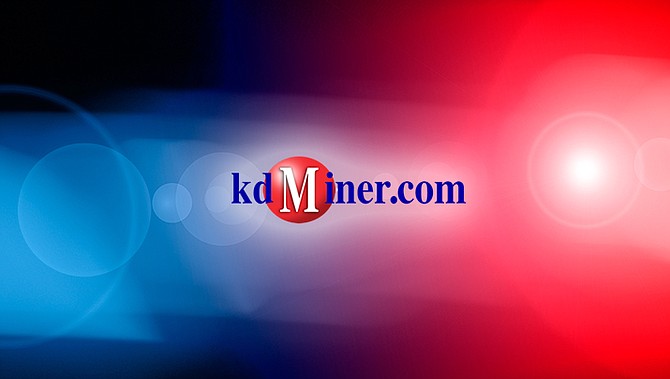 Stories this photo appears in:
A collision involving about a dozen cars on State Route 93 near milepost 68 at Coyote Pass this morning, Monday, Jan. 27, resulted in one person being extricated with unknown injuries.
A collision between a passenger vehicle and an ambulance occurred at about 9:38 p.m. Thursday, Aug. 22 on State Route 68 right before the junction with U.S. 93.
Impairment on the part of the at-fault driver has not been ruled out, reported DPS.
A man from Mesa has died after he was hit by a boat propeller while swimming in Lake Havasu
By Today's News-Herald
June 24, 2019
The Phoenix Police Department is debuting its new system of body cameras for on-duty officers. Phoenix police say the Axon body-worn cameras will go live Monday.
While people most assuredly still enjoyed themselves over St. Patrick's Day weekend, it appears they did so responsibly as the Kingman Police Department made only one DUI arrest and the Mohave County Sheriff's Office made none.
The end of the year is near and people will be taking the opportunity to celebrate the departure of 2018 and the arrival of 2019 on New Year's Eve
Mohave County Sheriff's Office received information from an out of state law enforcement agency regarding the possibility of human remains located in Mohave County
Mohave County Sheriff's Office says suspect leveled 45 shots at 2 Kingman Police officers
The girl has been returned to her grandparents and is doing well
One person was flown to a hospital in Las Vegas and three others were transported by ambulance to Kingman Regional Medical Center after a three-vehicle accident Sunday night on U.S. Highway 93.
Authorities are investigating a fatal crash on U.S. 93 north of Wickenburg that involves a car and a pickup truck pulling a horse trailer.
PHOENIX (AP) – The Arizona Department of Public Safety changed its policy on field-testing suspected narcotics due to fears that troopers could overdose from contact with the potent opioid fentanyl.
Three Prescott police officers were injured Wednesday night, May 31, when a suspect attempted to run them down with a vehicle and then got into a physical fight with them...
An 11-year-old Kingman boy was arrested Tuesday afternoon on felony charges of interfering with an educational facility, according to the Mohave County Sheriff's School Resource Officer.