The City of Kingman Public Works Department was working on the El Trovatore Hill portion of Andy Devine Avenue in this file photo. City Council has approved a plan to go ahead with a paving project on the section before work is done to make sidewalks ADA compliant.
Stories this photo appears in: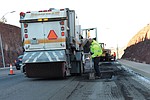 The rough drive up and down El Trovatore Hill will be smoothed out with a paving project that could begin as early as next week, the head of Public Works said Tuesday.
This Week's Circulars
To view money-saving ads
For as little as $3.49*