Kingman's Matthew Mendez tees off earlier this season. Mendez finished fourth Tuesday at Laughlin Ranch Golf Club with a 11-over-par 47.
Stories this photo appears in: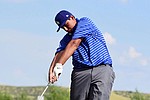 The Kingman High School golf team traveled to Laughlin Ranch Golf Club Tuesday and shot a 50-over-par 194 to take second place. Mohave Accelerated took first (182) and Mohave was third (202).
This Week's Circulars
To view money-saving ads
For as little as $3.49*