In this July 22, 2016 file photo, Sen. John McCain speaks to the audience at Beale Celebrations. McCain has said he will not vote for the latest attempt to overhaul Obamacare.
Stories this photo appears in: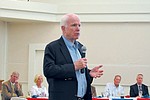 Sen. John McCain died Saturday after battling brain cancer for more than a year. He was 81.
By NANCY BENAC, Associated Press
August 25, 2018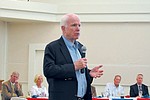 Asked how he wanted to be remembered, McCain said simply: "That I made a major contribution to the defense of the nation."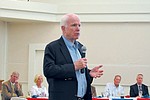 John McCain faced a choice that balanced friendship, party loyalty and his convictions. He made the decision some of his closest advisers expected.
By Julie Pace and Laurie Kellman, Associated Press
September 24, 2017