Back row, from left to right: Dr. Fred Gilbert (campus dean), John Hansen (chapter lead advisor), Jon Ortman, Gavin Rader, Angelique Shumway, Stoney Shumway, Crystal Mott, Alex Chadsey, Brittiney Lonon, Darreal Eddiness, Peter Roth (chapter co-advisor), Dr. John Kitts (chapter co-advisor). Front row, from left to right: Candace Hofstadter (guest speaker), Rachel Anderson, Isabelle Colvig, Joann DeStigter, Victoria Nowicki (chapter president), Jason Picard (chapter vice president of membership), Crystal Green, Dominique Mena, Elizabeth Najera, Anna Anderson, Joshua Edwards (chapter historian), Ariel Adamian (chapter secretary).

Stories this photo appears in: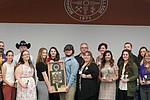 The MCC Phi Theta Kappa Honor Society recently inducted new members for Spring 2018.
This Week's Circulars
To view money-saving ads
For as little as $3.49*