Kade Juelfs and the Lee Williams boys tennis team will travel to No. 1 Catalina Foothills at 3 p.m. Wednesday.
Stories this photo appears in: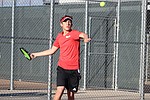 The Lee Williams High School boys tennis team put in countless hours of work this season to reach its goal of the Division II State Tournament.