This courtroom sketch depicts Paul Manafort, seated right row second from right, together with his lawyers, the jury, seated left, and the U.S. District Court Judge T.S. Ellis III, back center, listening to Assistant U.S. Attorney Uzo Asonye, standing, during opening arguments in the trial of President Donald Trump's former campaign chairman Manafort's on tax evasion and bank fraud charges. (Sketch by Dana Verkouteren)
Stories this photo appears in: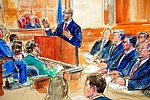 Paul Manafort's defense rested its case Tuesday without calling any witnesses in the former Trump campaign chairman's tax evasion and bank fraud trial. Manafort himself chose not to testify.
By Chad Day, Matthew Barajat and Mary Clare Jalonick, Associated Press
August 15, 2018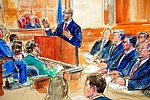 Former Trump campaign chairman Paul Manafort personally directed millions of dollars in international wire transfers to pay for high-end suits and more than $3 million in improvements at his various houses
By CHAD DAY and ERIC TUCKER, Associated Press
August 2, 2018