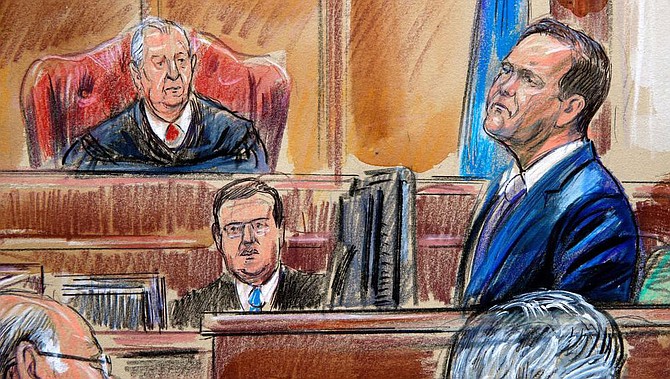 This Aug. 7, 2018, courtroom sketch depicts Rick Gates, right, testifying during questioning in the bank fraud and tax evasion trial of Paul Manafort at federal court in Alexandria, Va. U.S. district Judge T.S. Ellis III presides at top right. Though Gates definitively admitted to embezzling hundreds of thousands of dollars from Manafort at his old job, Trump's inaugural committee chairman is declining to say how much money Gates may have taken - or whether any further review of inaugural spending is warranted. (Dana Verkouteren image)
Stories this photo appears in: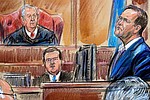 The jury in the fraud trial of former Trump campaign chairman Paul Manafort ended its first day of deliberations with a series of questions to the judge, including a request to "redefine" reasonable doubt.
By Matthew Barakat, Stephen Braun and Jeff Horwitz, Associated Press
August 17, 2018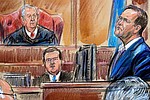 Donald Trump's inaugural committee pushed back hard last summer on questions about whether the unprecedented $107 million budget for the event was fraught with cost overruns and misspending
By JEFF HORWITZ, Associated Press
August 14, 2018