Former CIA directors and other top national security officials are typically allowed to keep their clearances, at least for some period. But President Donald Trump said Wednesday, Aug. 15, he is reviewing the clearances of several other former top intelligence and law enforcement officials, including former FBI Director Comey and current senior Justice Department official Bruce Ohr. All are critics of the president or are people who Trump appears to believe are against him. (White House photo)
Stories this photo appears in: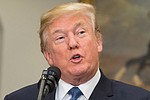 Former U.S. security officials issued scathing rebukes to President Donald Trump on Thursday, admonishing him for yanking a top former spy chief's security clearance in what they cast as an act of political vengeance.
By Jill Colvin and Catherine Lucey, Associated Press
August 17, 2018
This Week's Circulars
To view money-saving ads
For as little as $3.49*