Mexican youth Jose Antonio Elena Rodriguez, 16, was allegedly shot and killed by Border Patrol agents in October 2012. A U.S. border patrol agent was found not guilty of second-degree murder, and will be going to trial for manslaughter Oct. 23, 2018. (Daily Miner file photo)
Stories this photo appears in: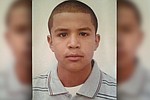 Government and defense attorneys are angling to have questions asked of jurors in the second trial of a Border Patrol agent that were not asked the first time, each in hopes of getting an outcome they want.
This Week's Circulars
To view money-saving ads
For as little as $3.49*