Skeletons were found in Skeleton Cave in the Salt River Canyon after the U.S. 5th Cavalry left the bodies there in 1872. According to offical U.S. Army reports, 54 Yavapai tribe members were killed and 20 captured, while only one member of the attacking side was killed and one wounded. (PD–US)
Stories this photo appears in: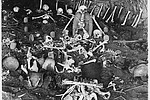 The Battle of Salt River Canyon, known as the Skeleton Cave Massacre, was the first principal engagement during the Tonto Basin Campaign under the command of Lieutenant Colonel George Crook of the United States 5th Cavalry.
This Week's Circulars
To view money-saving ads
For as little as $3.49*