Enzo Marino has excelled in his role as Lee Williams' starting quarterback. The Vols look for their first win tonight at home against River Valley. (Miner file photo)
Stories this photo appears in: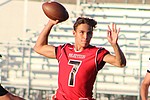 There were times last season when you could find Enzo Marino pacing on the sideline waiting to enter the game.
This Week's Circulars
To view money-saving ads
For as little as $3.49*