City staff is recommending against a resolution to approve Kingman Fire Department Station No. 2's construction now that Prop 413 has passed and there will be 1 percent decrease in the sales tax rate. (Daily Miner file photo)
Stories this photo appears in: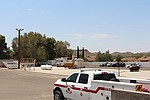 The citizens of Kingman will hear from newly-elected councilmembers and Mayor-elect Jen Miles, and Miles will make a special presentation to outgoing Mayor Monica Gates and councilmembers Vickie Kress and Stuart Yocum, at Council's meeting at 5:30 p.m. Tuesday at the Mohave County Administration building, 700 W. Beale St.