This 2014 photo shows the gun Kyle Juhl used to kill himself in Yakima, Wash. The Washington State Police had previously confiscated the gun and arranged it to be resold to the public. ( Yakima Police Department)
Stories this photo appears in: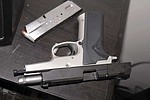 A yearlong Associated Press analysis found more than a dozen firearms sold by law enforcement agencies in Washington state since 2010 later became evidence in new criminal investigations.
This Week's Circulars
To view money-saving ads
For as little as $3.49*