Lee Williams' Hayle Davis scored six points Tuesday night in a 27-24 win over Mingus. With the victory, the Lady Vols improved to 3-2 in the 4A Grand Canyon Region.
Stories this photo appears in: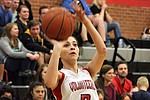 The Lee Williams High School girls basketball team picked up its fourth straight win Tuesday night in a 27-24 victory over No. 22 ranked Mingus at LWHS.
By Miner Staff Report
January 10, 2018