Donald Trump (File photo by Les Stukenberg/for the Miner)
Stories this photo appears in: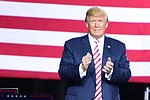 Google pushed back sharply, saying Trump's claim simply wasn't so: "We never rank search results to manipulate political sentiment."
By DARLENE SUPERVILLE & BARBARA ORTUTAY, Associated Press
August 29, 2018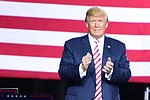 President Donald Trump will get the red carpet treatment on his brief visit to Britain beginning Thursday: Military bands at a gala dinner, lunch with the prime minister at her country residence, then tea with the queen at Windsor Castle before flying off to one of his golf clubs in Scotland.
By GREGORY KATZ, Associated Press
July 12, 2018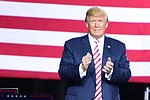 President Donald Trump's tariffs on imported aluminum and steel are disrupting business for American companies that buy those metals, and many are pressing for relief.
By PAUL WISEMAN & CHRISTOPHER RUGABER, AP Economics Writers
April 22, 2018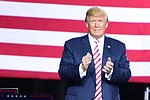 A bipartisan immigration proposal surfaced Monday in the Senate, only to be quickly knocked down by President Donald Trump via Twitter
By Alan Fram, Associated Press
February 6, 2018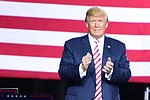 President Donald Trump says he's open to an immigration plan that would provide a pathway to citizenship for hundreds of thousands of young people who were brought to the country as children and are now here illegally.
By JILL COLVIN & ANDREW TAYLOR, AP
January 25, 2018