Seaman Jasmine Lutzi observes a C-2A Greyhound assigned to the Providers of Fleet Logistics Support Squadron (VRC) 30 as it approaches the flight deck of the aircraft carrier USS Theodore Roosevelt (CVN 71). Theodore Roosevelt and its carrier strike group are deployed to the U.S. 5th Fleet area of operations in support of maritime security operations to reassure allies and partners and preserve the freedom of navigation and the free flow of commerce in the region.
Stories this photo appears in: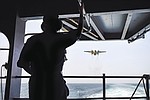 A U.S. Navy aircraft carrier is expected to make a port visit to Vietnam in March, U.S. Defense Secretary Jim Mattis said Thursday.
By Robert Burns, AP National Security Writer
January 29, 2018