Children run through the Mighty Mud Mania obstacle course at Firefighter's Memorial Park in 2016. This year's event is scheduled for 10 a.m. Thursday. (Daily Miner file photo)
Stories this photo appears in: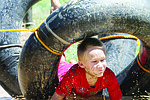 Mighty Casey has struck out, but there's still plenty of joy in Mudville, or in this case Firefighter's Memorial Park, where mud runners will slosh their way through an obstacle course Thursday in the 40th annual Mighty Mud Mania presented by Kingman Parks and Recreation.
This Week's Circulars
To view money-saving ads
For as little as $3.49*