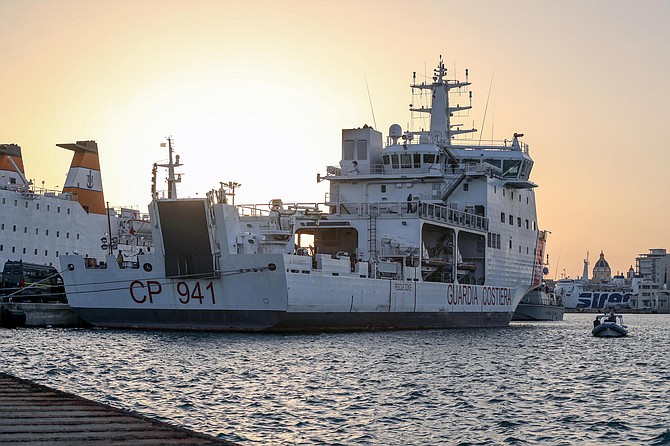 The Diciotti ship of the Italian Coast Guard, with 67 migrants on board rescued 4 days ago by the Vos Thalassa freighter, is moored in the Sicilian port of Trapani, southern Italy, Thursday, July 12, 2018. An Italian coast guard ship has docked in Sicily but is still awaiting permission to disembark its 67 migrants, after two of them were accused of threatening their rescuers if they were taken back to Libya. Interior Minister Matteo Salvini said Thursday he won't let the migrants off until there is clarity over what happened after an Italian commercial tugboat rescued them over the weekend. Italy's transport minister said some migrants made death threats against the crew. The threats prompted the Italian coast guard to board the migrants and bring them to Trapani. (Igor Petyx/ANSA)
Stories this photo appears in:
Two border patrol ships carrying 451 migrants neared Sicily on Saturday but the migrants' fate remained uncertain after Italy's hard-line interior minister insisted they should be sent to Malta or Libya instead.
By NICOLE WINFIELD, Associated Press
July 14, 2018