Jennifer Marie Morris
Stories this photo appears in: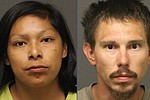 Travis Daniel Leduc, Jr., 26, of Golden Valley, was arrested Friday for burglary, narcotics and prohibited possession of a weapon, all felonies. Sheriff's deputies contacted a man about items reportedly stolen from his property, including a storage shed valued at $1,500. They saw a damaged fence and tire tracks from the shed to the road.
This Week's Circulars
To view money-saving ads
For as little as $3.49*