First Lake Mead catfish! Dan Ferraro holds the first catfish he caught at Lake Mead. Ferraro, who is blind, caught 40 fish, stripers and catfish, on his first night time fishing trip on Lake Mead. (Photo by Don Martin/For the Daily Miner)
Stories this photo appears in: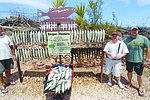 Despite losing his sight, Ferraro has not let this disability prevent him from enjoying the great outdoors.
This Week's Circulars
To view money-saving ads
For as little as $3.49*