Sunscreen is one of the safety tips, Dr. Taylor recommended to preventing skin cancer and staying safe in the sun. (Adobe Images)
Stories this photo appears in: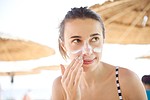 If there's one thing the nation would know about Arizona, besides it being the Grand Canyon state, it would be the number of sunny days we get around here. Sunshine is great for cookouts or enjoying a dip in the pool, but too much sun exposure can be harmful to our skin.